To login, you have to access your registration order. Open the email that was sent by registration@foss4g.org when you bought your ticket. The subject of the email should start like [FOSS4G-2021] Your order:.
At the bottom of that email there must be a link to View order details. Click on that link and you will find a login button for each attendee registered using that order:

This button will only be available during the week of the event.
You can use that button on different browsers and computers and it will always open your session.
Do not share this email or the related link with anyone or you may be blocked from the event.
Profile
Once you login for the first time, you have to complete your profile details.
First, fill in your name and lastname. This is the name you will use to interact with the rest of the attendees.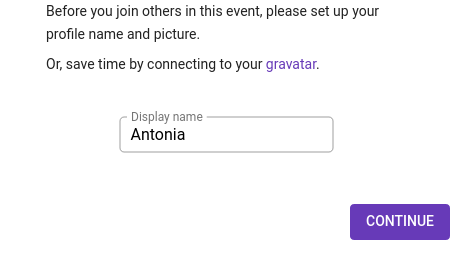 Then, you may want to upload a photo. This photo will be visible to all attendees. Make sure you choose one according to the professional profile you want to be associated with. It is perfectly fine not to use a photo if you want to keep your privacy. But if you are interested in interacting with other attendees, uploading a photo here will help.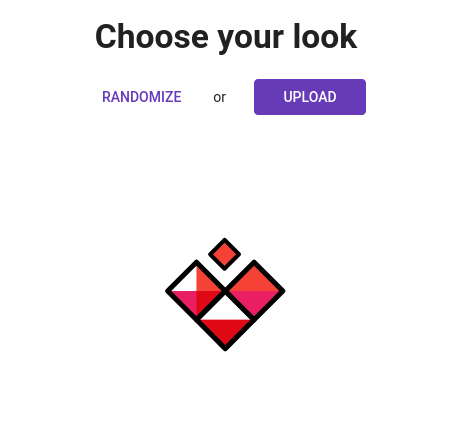 Finally, there are some other fields to complete your profile. There is no mandatory field to fill in, but it is important that you use the proper keywords if you want to have meaningful interactions during the conference.
All attendees are listed at the Meet your Peers! tab. You will be listed there as well with all the details you filled in on your profile.

You can always complete the data later by either clicking on your name at the bottom left of the page, or going directly to your preferences.
We highly recommend you enable notifications in your desktop to make sure you don't miss anything from the event like private messages and broadcasts.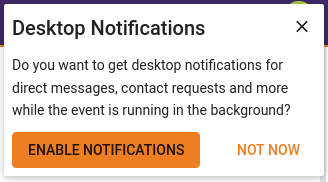 Direct Messages
Anywhere you see someone's name you can open their profile. There, you can choose if you want to send a text message, request a video call or block them so they can't interact with you anymore.
A blocked user cannot send any direct messages to you and you cannot send any direct messages to them. You can always unblock them later.
If you feel the need to block someone, check our Code of Conduct. If that person is failing to follow it, let us know so we can act on it before they make someone else uncomfortable.
Watching a session
There are two tabs for the schedule. The Schedule tab contains the main sessions and social gatherings schedule. The Workshop Schedule tab will show the schedule for workshops and practical sessions. You need to register for the specific workshops to be able to attend them.
Once you choose which session you want to attend, look for the name of the room at the stages tabs on the left menu. After clicking on the tab, the selected stage will open.
You can comment the session with the rest of the audience using the chat on the right of the video.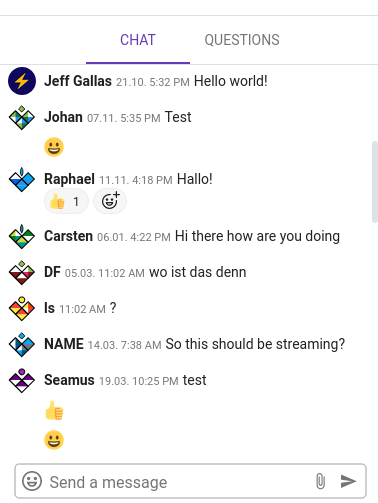 If you want to ask a question to the speaker, use the questions tab. You can also upvote questions made by other attendees so the moderator knows which questions to prioritize.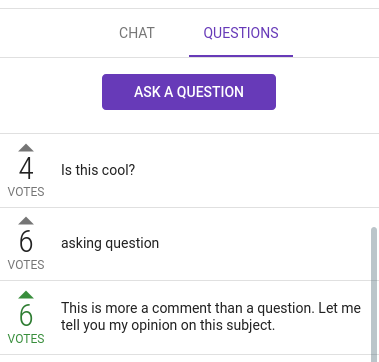 Channels
There is a list of text channels you can use to interact with the rest of the attendees. You can search and browse all the channels available to look for those more attractive to you.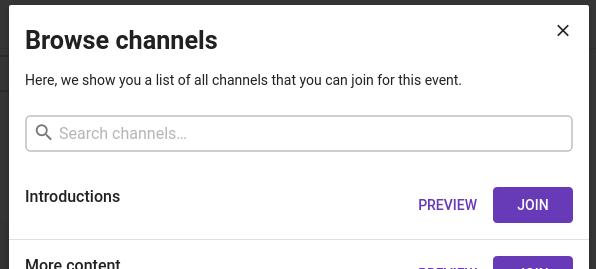 Social Gatherings
We have special sections to interact with other attendees. You can access all these social interactions by choosing them on the left menu.
Meet your peers!
On the "Meet your peers!" tab you will find a list of all participants on FOSS4G 2021. You can search by some keyworks and open the profiles of the people that catch your eye. On their profile, you can choose to message them, which will open a private text chat directly to that user.
Speed Dating
You can try our experimental speed dating. Enter the left menu option called "Speed Dating" and "Start a new call". Venueless will match you with a random attendee that is also wanting to meet new people.
Depending on the time of the day, there may be not many candidates to match. Feel free to try later, maybe during some break!
Social Gathering
This is the place where we will meet for Gala Dinner, Ice Breaker and many more social activities. This space will remind you of vintage video games in which you choose a character and a name and walk on a map discovering easter eggs and talking to other people.
Take a walk with your dog on Buenos Aires, run around the obelisk, visit the floralis generica, join a group of people and talk to them or just find all the secrets of the map. There will be a ranking for the discoverers of all the treasures on the map. Don't be late!